Train visit/Guided on Foot or By Own Bicycle
1.The tourist train 2.Guided on Foot or By Own Bicycle
Image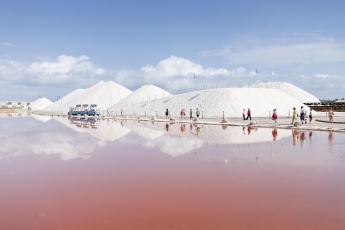 Image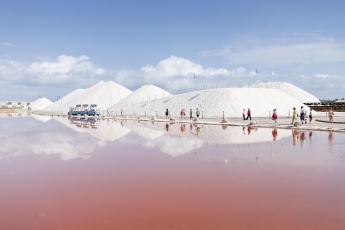 Get on board the train and enjoy the heart of the Salinas de Torrevieja on a trip of just over an hour. Dare to discover the salt produced in the Natural Park of the lagoons of La Mata and Torrevieja and its characteristic enclaves: the unique pink lagoon, the ancient crystallizers of Chemistry and the immense mountains of salt, in addition to all the flora and fauna associated with This wetland of international recognition.
At the end of the journey you can buy salt products in our store.
Visit Data:
Duration: 1 hour approximately (includes visit to the Salinas and stop at the store). It is advisable to check the schedules on the web.
Departures from the Paseo de la Libertad located in the center of the municipality of Torrevieja. The train will leave with a minimum of 6 people.
"SCHEDULE UPDATE 2023"
March REOPENING:
03-03-2023/03-04-2023/03-05-2023/03-10-2023/03-11-2023/03-12-2023
11:00h, 12:15h, 13:30h/ 16:30h
From 03-17-2023 every operational day, except Mondays closed for rest 03-20-2023 y 03-27-2023
11:00h, 12:15h, 13:30h/ 16:30h
April:
04-01-2023 al 04-09-2023, both inclusive 
11:00h, 12:15h, 13:30h/ 16:30h,17:45h, 19:00h 
(Monday 04-10-2023/04-17-2023/04-24-2023 CLOSED FOR REST)
Rest of days departure times:
11:00h, 12:15h, 13:30h/ 16:30h,17:45h
Individual rates:
Adults: € 8.95
Children (from 2 to 12 years old): € 7.95
Over 65 years: € 7.95
Family rate (2 adults and 2 children): €29,90 
Additional child supplement: €5,95
Rates for groups *: Groups (from 19 people): € 6.95
Advance booking will be necessary. Tickets can be purchased on the same train.
*GUIDED tours on foot and by own bicycle, continue on weekends with advance reservation and during the week only for groups, with prior reservation.
2. GUIDED routes on foot-own bicycle (Puncture kit and mandatory helmet) Check available departure times
We have inaugurated our ALWAYS GUIDED routes on foot on Saturdays and by own bicycle on Sundays. Both routes consist of a guided tour in different languages ​​(Spanish-English-Portuguese) where you can see the entire industrial area, old stacker, old chemical ponds, mountains of salt, abandoned factories, pink lagoon, area where craft boats set up (Except in bird nesting period) and a lot of more details.
Approximate duration of 2h route on foot- 1h30min on your own bicycle (The use of a helmet is mandatory)
SCHEDULE MONTH MARCH & APRIL
*GUIDED ON FOOT: Check available departure times
March Saturdays: 03-04-23/03-11-23/03-18-23/03-25-23
April Saturdays: 04-01-23/04-08-23/04-15-23/04-22-23/04-29-23
*GUIDED BY OWN BIKE: Check available departure times
March Sundays: 03-05-23/03-12-23/03-19-23/03-26-23
April Sundays: 04-02-23/04-09-23/04-16-23/04-23-23/04-30-23
Telephone reservations: +34 966 901 350 +34 680 552 291 Weekends and holidays +34 626 594 109