Train visit
Get on board the tourist train
Image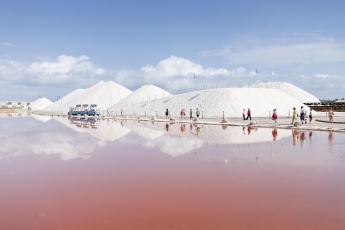 Image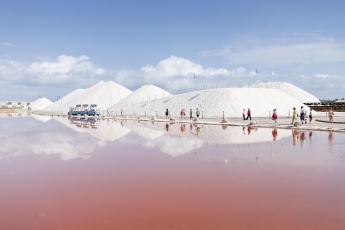 Get on board the train and enjoy the heart of the Salinas de Torrevieja on a trip of just over an hour. Dare to discover the salt produced in the Natural Park of the lagoons of La Mata and Torrevieja and its characteristic enclaves: the unique pink lagoon, the ancient crystallizers of Chemistry and the immense mountains of salt, in addition to all the flora and fauna associated with This wetland of international recognition.
At the end of the journey you can buy salt products in our store.
Visit Data:
Duration: 1 hour approximately (includes visit to the Salinas and stop at the store). It is advisable to check the schedules on the web.
Departures from the Paseo de la Libertad located in the center of the municipality of Torrevieja. The train will leave with a minimum of 6 people.
Departure times:
April and May:
10:00h, 11:00h, 12:00h, 13:00h, 14:00h / 16:00h, 17:00h, 18:00h, 19:00h
June, July, August and September.
(Monday closed)
10:00, 11:30, 13:00, 17:00, 18:30, 20:00
Saturday 10:00, 11:30, 13:00, 17:00, 18:15, 19:30
From 14 September
(Monday closed)
10:00, 11:30, 13:00, 17:00, 18:15, 19:30
From 16 October:
(Monday closed)
11:00, 12:15, 13:30, 16:00, 17:15, 18:30*
* Depending on the hours of sun.
November:
Only thursday, friday, saturday and sunday.
11:00, 12:15, 13:30, 15:45, 17:00 
December:
From 4 to 8 inclusive and from 22 December to 05 January.
11:00h, 12:15h, 13:30h, 15:45h, 17:00h.
24th, 31st December and 5th January ONLY in the morning.
December 25th and January 1st CLOSED.
Individual rates:
Adults: € 8.95
Children (from 2 to 12 years old): € 7.95
Over 65 years: € 7.95
Family rate (2 adults and 2 children): 29,90€ (Christmas only)
Rates for groups *: Groups (from 19 people): € 6.95 Companions: Free *
Advance booking will be necessary. Tickets can be purchased on the same train.